The Surreal Historical Coincidences of Today's Berlin, Plus Beer
Berliners are moths to the light, unanimously drawn outside by the first rays of sun. Joining the congregation, I grab a beer from the Spätkauf, the term for the iconic convenience stores run by cheerful Turkish men that speckle Berlin's street corners. In summer, the stores become the city's most vital institution, providing cheap, cold beer on warm afternoons.
I'm on my way to Tempelhof, to where the sky is wide open. Once an airport, the field is now Berlin's biggest park, a flat grassy expanse that stretches the entirety of a city suburb. Completely cleared with two huge concrete runways rolling down the center, the area has changed little since the airport's closure.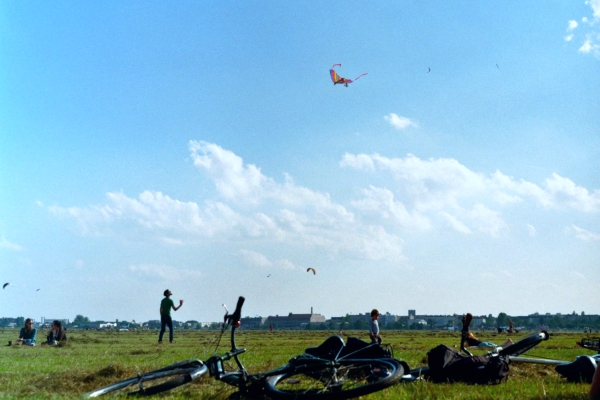 Riding down wide streets, I follow the curve of the airport terminal. The building is steely, with tall, narrow windows. It has the clean, masculine geometry typical of Nazi architecture. The airport, largely built and designed under the Nazi regime, was once at the heart of Hitler's vision of 'World Capital Germania.' The terminal was intended to be the gateway to a Europe commanded by the Third Reich. Today, it has become Germany's biggest refugee camp. That's some serious irony to mull over a beer.

While I chase the best plot of grass, I watch a father fold himself into a miniature convertible Range Rover with his toddler, the pair squealing as they race down the runway. A man wearing only tiny green hot-pants and a pair of rollerblades spreads his bare skin over the ground, evidently also keen on catching the sun. I choose a spot inside the community garden, beside a shelf of plant-filled shoes and tomato vines staked on bed springs. On top of a makeshift crate platform, I crack open my beer.

The first sun of the summer is a sigh of relief. After months of hibernating in my bedroom, the air against my bare skin makes my body feel loose and shiny. Or perhaps its the beer. My friend tells me a story about how the giant dismembered eagle's head at the terminal's entrance was actually a part of a much bigger statue, now mysteriously missing in some kind of controversy. I'm not sure if it's true, but certainly Tempelhof, like Berlin in general, has become a sort of myth. Between its Nazi past and the stories of candy bombers throwing sweets to the West Berlin kids below, there's something surreal to the place.


by Bella Peacock