Greek Olives
We stand together in the olive groves by the kitsch pink family home. Her worn cotton nightie clothes a worn body, that bends to the ground in search of vegetables. The tomatoes from the garden are not glossy like the ones from the supermarket, rather misshapen and coloured powdery red. The hands that gather them belong to Yaya, which means grandma in Greek, and even though I had only met her a few days ago, she insisted that I adopt the familial name.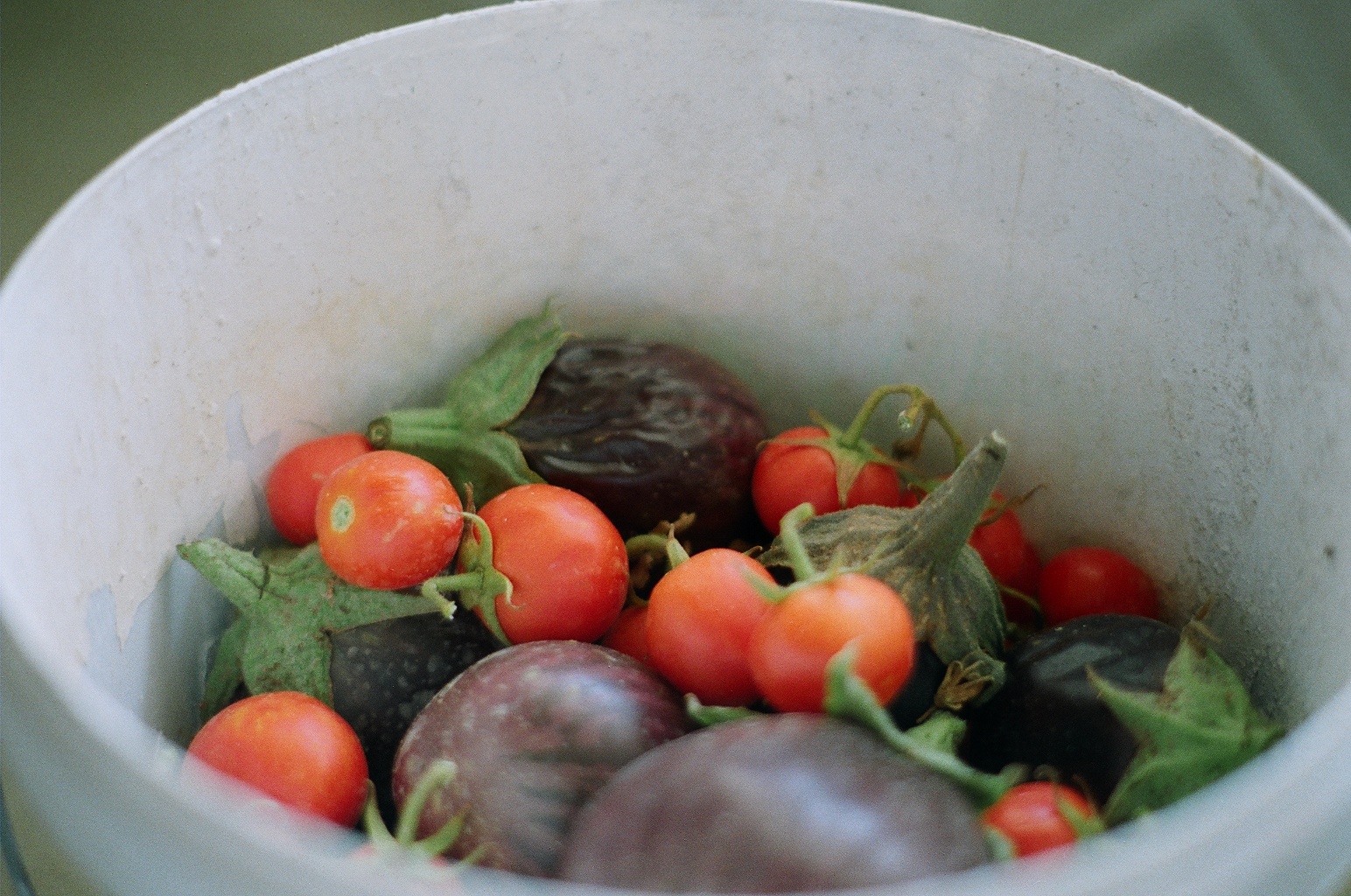 Her nose is pointed, too pointed for her sagging face. In truth all her features have retained an angular spike, which must have looked sharp and defiant under elastic skin; but which now look sad, forgotten remnants of what once was. Her eyes, lined with blue pencil which betrays the shaky hand that applied it, look to me in search of interest, or perhaps pity. In crooked English, she tells me of her country, of its glory days, and of its fall. I listen dutifully and nod my head as my mind wanders the acres of olive groves; the same ones my mother was photographed in as I grew inside her womb.
It's strange to stand now, fully grown, on this remote Greek island. Strange to see the place my mother so fondly recounts stories of her pregnancy. When she told me of Zákynthos, it had been of a place of parties, of fun, of life. Now, the Mediterranean air is imbued with a somber drift.
Yaya's rough hands work the dirt off the young aubergines with familiarity. She is going to teach me how to make Scorthestruby: an eggplant and tomato dip. Even in the dirty white plastic bucket, the fresh vegetables look beautiful; like life. I take a photo to eternally preserve their freshness. As Yaya puts the aubergines in the oven whole, I find my black moleskin journal to scrawl down the recipe. But when I ask her to recite it she is lost for words, as if the ritual of cooking is etched so deep in her being that it is antecedent to language.
I look at her with a cumbersome smile, as our hands peel the dried skin from the eggplant. It comes easily, the force of the oven having already torn the flesh from the skin. I ask her if she had cooked with my mother; she had, but already I knew that. She tells me I look like her, I already knew that too.
Together with a generous glug of olive oil we blend the roasted eggplants and fresh tomatoes with garlic. Lemon juice, salt and pepper to taste. Less is more. Yaya's husband returns from outside. He is too tired to talk to me, too tired to play charades with broken English. He eyes me wordlessly, and I wonder if he is comparing me to the woman who had charmed him years earlier. I wonder if he finds her life, her vibrancy, in me, her progeny.
As though I am a long lost godchild, Yaya clings to me, adopting my ear. Her unevenly stained-pink lips move to the shape of her country's crisis, her crisis. And I could see it; its decrepit buildings, its despairing people. I could see her pile of regrets, her crutches of delusion. She tells me of the beautiful wedding dresses she made, she takes me to her sewing room. I see the cream taffeta and the beaded bodies of bygone fashions. I look at them, at their careful finish, and their misery of so many years left unworn. Their purpose never realised.
Yaya looks to me and tells me of the tragedy, the tragedy that is her life. And as she talks I realise why her daughters have taken their ears to foreign lands, and why her husband has grown deaf.
Lunch comes and offers us respite; she is transformed by the food. She is once again matron of the house, maker of the meal; feeder of the people. We eat the green olives and they explode with juicy tang. The insecurities of a collapsing economy are temporarily dissolved by the senses. We eat the scorthestruby and it fills us with its zest. There is chicken, and cheese, and bread, and salad. It crunches and cracks, it bursts and drips, it spills and spurts. We dollop, we lick, we chew: we devour. There is only us and the meal she has made. There is sustenance.
We breathe the summer air, it smells of the country. And in that moment of silence we both know the horizon of her future now stands behind her, and she has no where to look but back. It is a state condemned to the old, an exile shared by only those expecting death.
Outside, the olives groves stretch their body down to the sea. They have the splendour of something firm and timeless; something that had seen many moons and many people and many times, and remains.
We take the compost into the garden, the cycle perpetually repeated.