Better Times is a platform for women to share stories of empowering intimate experiences. We see this project as a response to, and complementary narrative for, the many stories that have recently been shared about experiences of coercion, assault, and rape in the context of #TimesUp and #MeToo. Certainly, these stories are absolutely imperative contributions to public awareness of the day-to-day violence faced by women. Yet, while it is critical to speak about bad experiences, it is also crucial to outline what a path forward might look like - a path that is fashioned by women themselves who feel empowered to express how they want to be treated.
Our intention with the project is to help both young women and men understand what a respectful and caring intimate encounter might look like. Bad behaviour is not always men's default, nor should women be expected to tolerate it. Many men and women every day manage to successfully traverse the fraught realm of sex with tenderness and consideration. We hope that for all of us these stories can be a glimpse into how to create better sexual encounters.
Better Times was founded and created by Bella Peacock and Simon Hueksen and launched with the help of Cathy Bijur in November 2018 at Berlin's Exgirlfriend Gallery. Alongside the digital launch, we also held an event to concurrently build tangible communities and initate face-to-face discussions. Our goal is to continue holding similar events in both Berlin and now Sydney, developing both online and offline discussions.
Better Times buzz
In November 2018, the Goethe Institute, Germany's largest cultural association, published a story about Better Times, covering the project's goals, origin, team, and launch. Read it here Lola is one of Berlin's largest free culture magazines. In their sixth issue, Sechs Positive, Lola printed a short article on about the project and its importance during the #MeToo movement.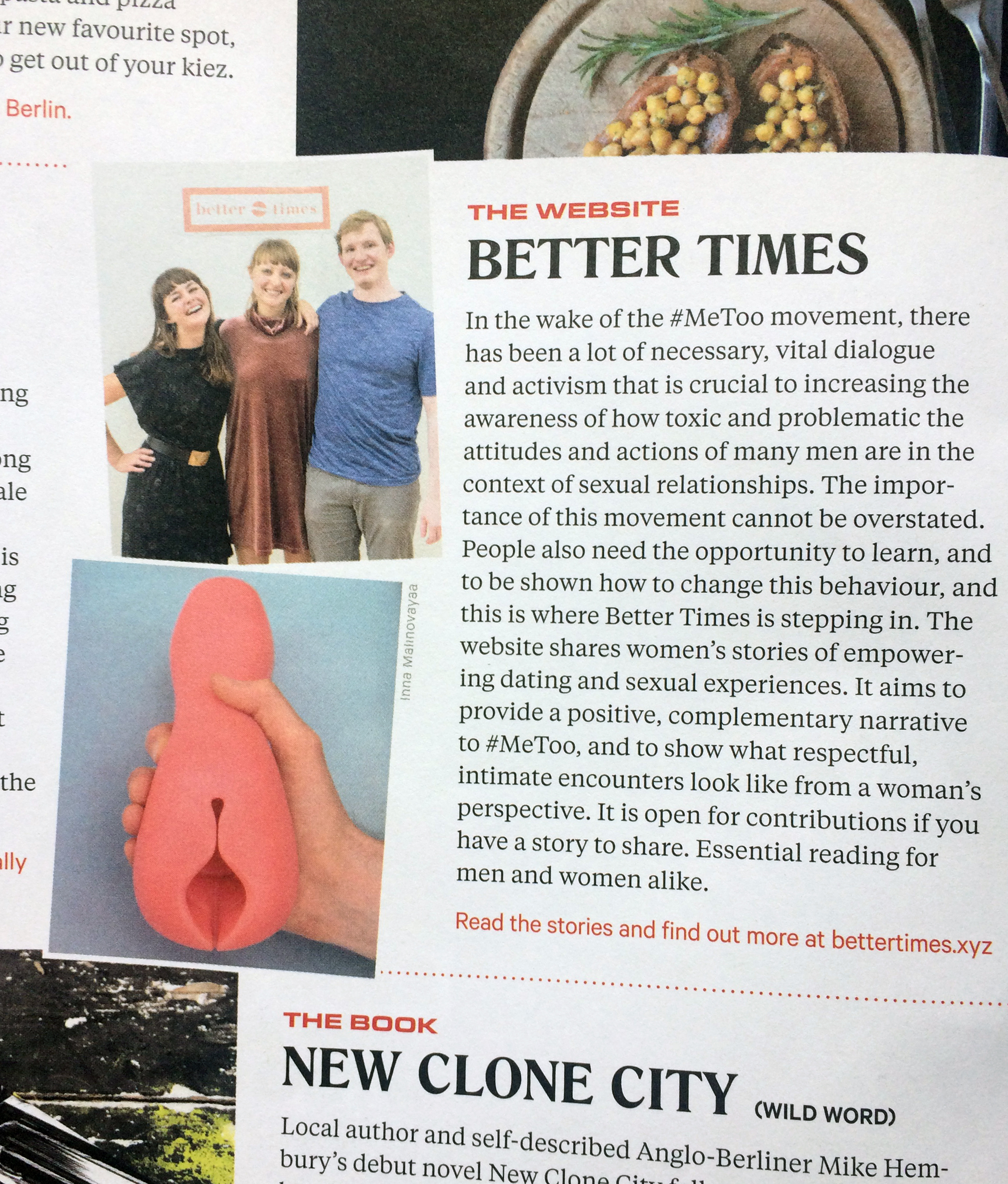 Launch Party at Exgirlfriend Berlin